Real Startup 2017 Programming
In our Real Startup 2017 program, we welcomed 4 university startup teams for a 3-week residency in the San Francisco Bay Area. Teams worked with Real Industry's network of over 400 industry mentors, and received VIP access and on-site visits to over 30 leading companies. The program prepared students to enter industry, refine interpersonal, professional, and business skills, commercialize their ideas, and expand their professional networks in a real-world setting.
DAY 1: WELCOME TO SILICON VALLEY: STARTUPS & BUSINESS MODELS
Polsinelli LLP, San Francisco
Students began their Real Startup experience in the downtown San Francisco offices of Polsinelli LLP. Day 1 featured an orientation, program overview, and goal setting for all teams. We received an introduction to our Real Startup framework - the Business Model Canvas - with an afternoon workshop from Carley Jacobsen (Strategist, Business Models Inc).
The day concluded a crash course in intellectual property and IP strategies by Tam Thanh Pham (Principal, Polsinelli LLP).
DAY 2: TALKING TO CUSTOMERS
Stanford University
"Entrepreneurs are Warriors while Victims Fails." Teams explored the mindset, traits, and soft skills required to be successful entrepreneurs, with presentations and mentoring from and coached by Doug Miller (Head of Human Resources, iZotope). In the afternoon, students worked on their business models with Mike Herring (formerly President and CFO, Pandora), scheduled appointments, and began customer discovery.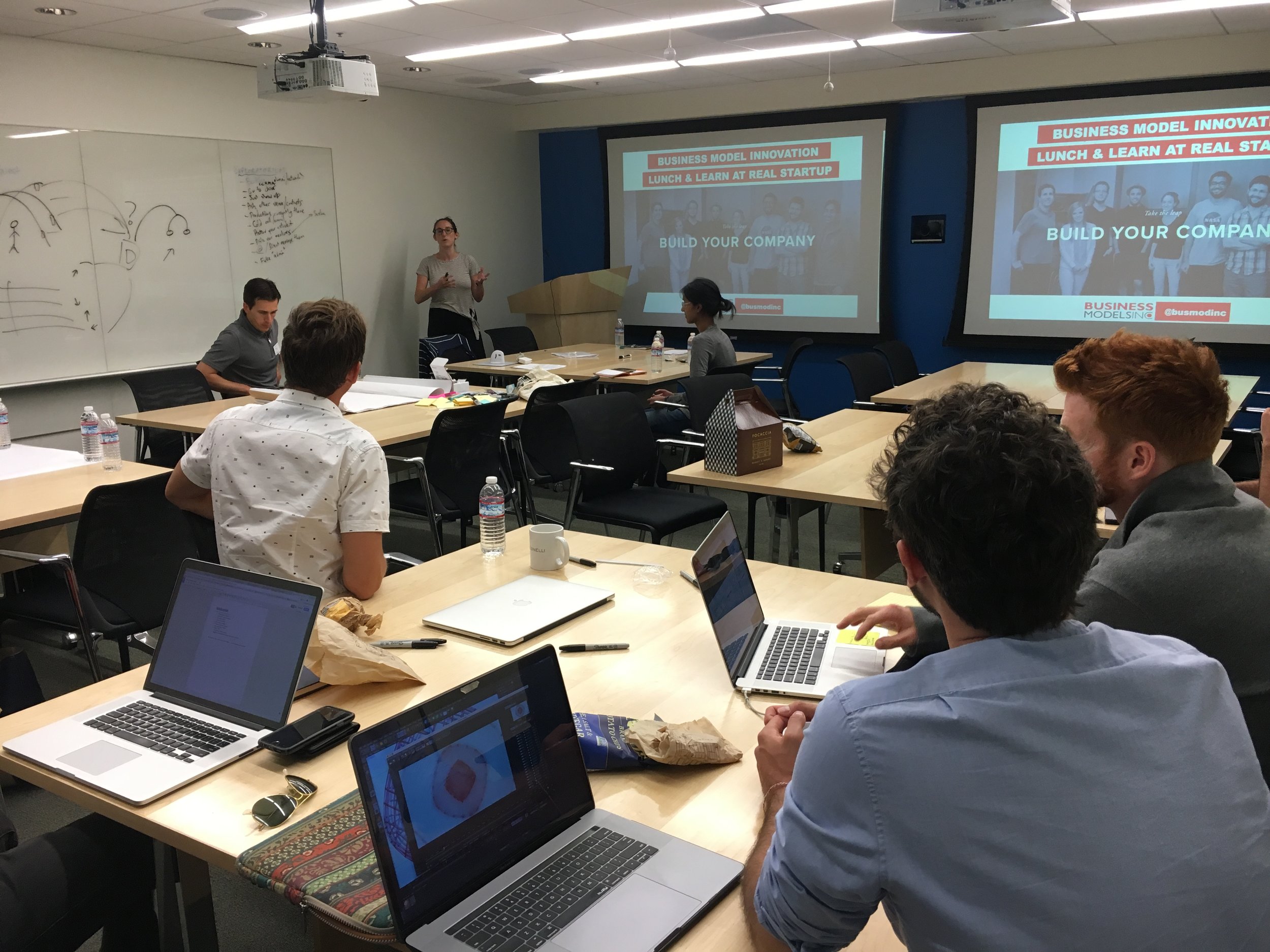 Silicon Valley and San Francisco
Teams get out of the building, leave the nest, and interview their prospective customers in Silicon Valley. Teams consolidated their feedback into their business model canvas, and created a value proposition canvas, reviewing with Carley Jacobsen.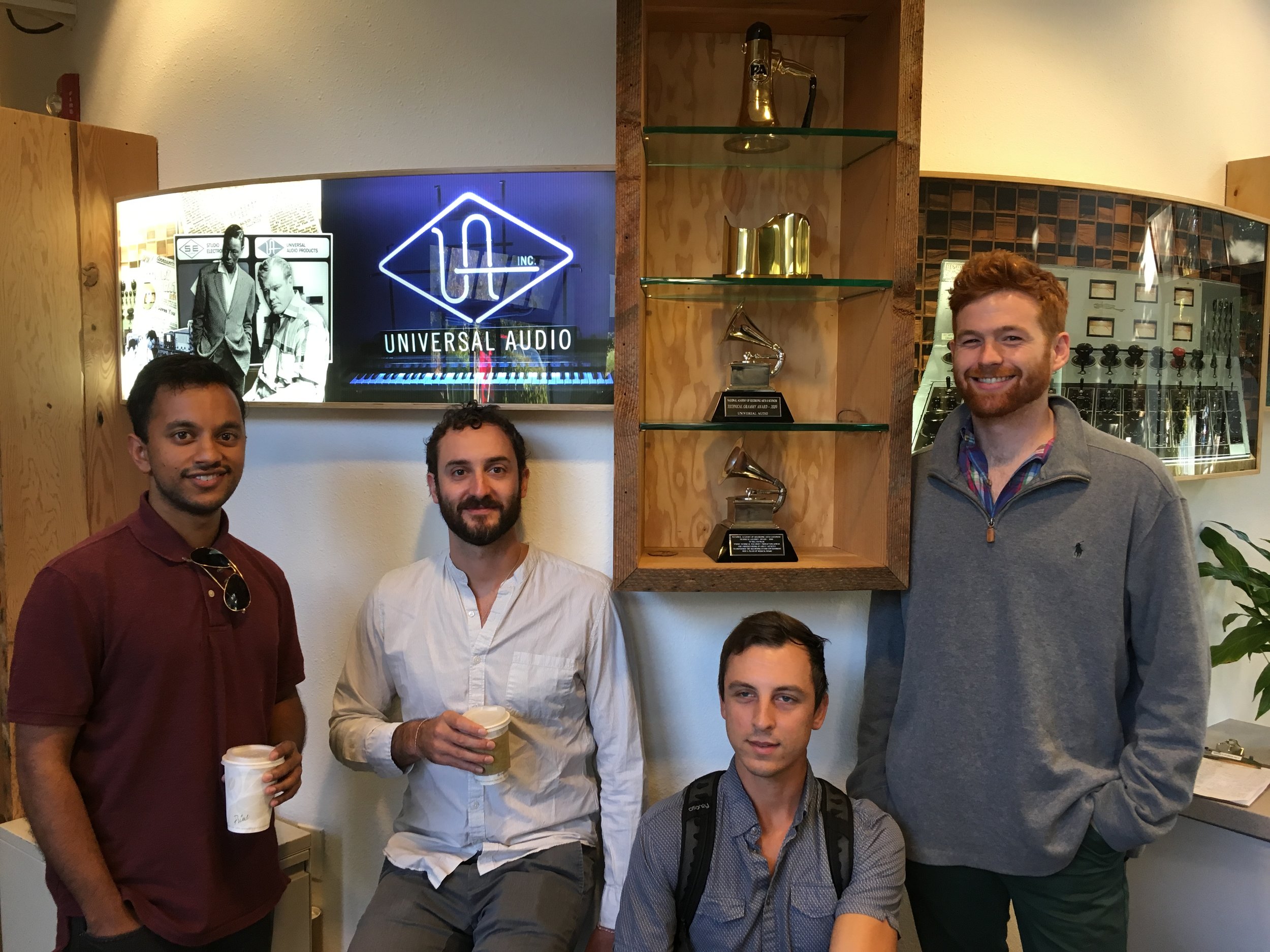 DAY 4: UNIVERSAL AUDIO VISIT
Universal Audio, Scotts Valley, CA
After a tour of Universal Audio's studios, headquarters, and manufacturing, teams worked hands-on with Universal Audio CEO Bill Putnam, Greg Westall (VP, Sales & Marketing), and Lev Perry (Director, Product Development). Afternoon sessions included discussions on the audio software development process, software and hardware integration, and the quality assurance process with Beau Silver (Senior Software Engineer), Ian Smith (Software QA Engineer) and Quinn Powell (Software QA Engineer).
DAY 5: licensing and consumer
XPERI (DTS), Los Gatos and Turtle Beach, San Jose
Teams discovered the future of immersive audio, VR, and gaming with full day sessions with industry partners. By combining real-world demonstrations, one-on-one office hours, and group work, industry mentors supported the team's needs and questions across UX, UI, R&D, and product development. Turtle Beach's Chief Technology Officer, Richard Kulavik, mentored students at their San Jose R&D lab. XPERI (DTS) mentors included:
Martin Walsh(VP, R&D Interactive Audio), Edward Stein (Director, R&D) Dave Corsello (Staff Engineer, R&D), Sven Mevissen (Product Manager, Pro Audio), Karen Wong (UX Designer and User Researcher), Anthony Hand (Manager, User Experience)
DAY 6: research and development, content licensing and artist management
Zeitgeist Artist Management, San Francisco
Sennheiser, San Francisco

Students explored the needs and goals musicians, artist managers, and explored the music business with Zeitgeist Management's Jordan Kurland and Darius Zelkha. In the afternoon, teams receive an exclusive opportunity visit Sennheiser's R&D lab and interview Sebastian Chafe (Strategic Innovation Manager) and Michael Lee (Director, R&D Lab) on how they may commercialize their innovations.
DAY 7: developing disruptive music, speech, and video technology: UX, licensing, ecosystems, R&D, implementation, and standards
Dolby Laboratories, San Francisco
Students received VIP tours of numerous Dolby studios and sensory labs.
Leaders at Dolby provided a crash-course in how to develop ecosystems and platforms, demystified the research and development process, and then opened up their calendars for office hours, hands-on mentorship, and interviews by students. Our Dolby team included: Jeff Riedmiller (Vice President of the Sound Group in the Office of the CTO), Aaron Master (Platform Manager), Matt Gallagher (Staff Applications Engineer), and Mike Barrett (Manager, Sound Tech QA)

DAY 8: scaling your startup
Stanford University
After having completed over 30 customer interviews to validate their business models in the past 2 weeks, students shifted to focus on the unique challenges of scaling their innovations and ideas. Led by Stashimi's Jürgen Kurz (CEO) and Kosta Elchev (CMO), we explored real-world examples of financing, VC investment, strategic partnerships, and corporate partnerships within the media and technology industries. The afternoon concluded with hands-on mentorship on scaling the team's business models and building brand partnerships.
DAY 9: marketing and sales
Stanford University
Marketing is about communicating your story, your value, and how that aligns with your customers needs. We worked with Dave Hill (Founder and Head Coach, Go 2 Market Coach, former VP Sales & Marketing at iZotope, Founder of US Office and Managing Director, Ableton) on refining our stories, our value propositions, and crafting expert marketing plans.
DAY 10: storytelling for entrepreneurs
Stanford University
Teams work with some of the best storytellers in the media technology industry, to refine their pitches, their marketing, and their business models.
Featuring Dave Hill (Founder and Head Coach, Go 2 Market Coach, former VP Sales & Marketing at iZotope, Founder of US Office and Managing Director, Ableton) and Rory Seydel (Executive Creative Director at LANDR Audio)
DAY 11:Talking to Investors
Silicon Valley
Investing and business model critique from Greg Mertz (Lead Advisor, Technology Initiatives, Warner Bros Records; Co-President
Chalkboard Music, Inc.; Mentor, Techstars), Josh Burwick (Tech Investor/Advisor/CFO), Matt Sandler (Startup Business Development, Amazon; Entrepreneur in Residence - Music, Techstars) and
Pascal Pilon (CEO, LANDR)
DAY 12:COMMUNITY SHOWCASE
Students debrief with recurring mentor, Mike Herring, and refine their pitches, business models, and next steps. In celebration of our student teams, we hosted 100 music and tech industry leaders for a celebration and opportunity to see these teams pitch! A tough three weeks in the program culminated in teams gaining support from a group of industry executives and connectors in a private showcase event, by which point the teams had learned from a diverse range of over 70 customers and mentors.
DAY 13: FINAL PRESENTATIONS AND LESSONS LEARNED
Back at Polsinelli LLP, we were joined by all of the mentors, advisors, and corporate partners for the formal presentations from teams. Teams presented their final business models, shared their personal experiences, and conclude with if they are a "go or no go." We discussed next steps and Real Industry resources to support our teams in the weeks and months ahead!