Real Startup 2019 Teams
In June 2019, teams join us from University of California, Berkeley, Berklee College of Music, University of the Arts, Berlin, Stanford University, and University of Hartford. You can learn about them below.
universities Represented
University of California, Berkeley - Berklee College of Music - University of the Arts Berlin - Stanford University - University Of Hartford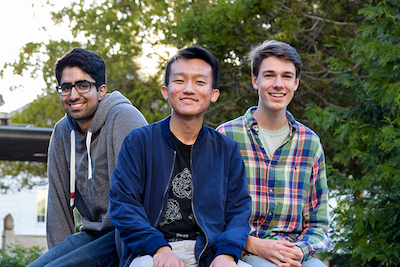 Oki installs soundproof karaoke boxes in shopping malls, airports, and other indoor public spaces, charging customers by minutes of usage. Oki makes singing as spontaneous and personal as possible, enabling shower-like freedom of expression.
Luofei Chen, Noah Adriany, Aayush Tyagi
Hidden Treasure makes you travel the world through music. We want to create an immersive experience that allows you to get to know other cultures and traditions through their art. With our application and the use of newest technology, we want to give you the opportunity to not only listen to music of the world, but also find out about the environment it emerges from in an entertaining way.
Joana Obieta, Pablo Mirete Godoy, Julia Brulisauer
Lotus is the world's first personalized online department store. Dubbed 'Spotify for Clothes', after telling making a profile and telling Lotus your favorite clothing brands, the items in your wardrobe, and of course connecting your social media accounts, we use machine learning to curate a personalized department store just for you. This store connects to a broader social media platform ushering in a new class of direct-to-consumer marketing for fashion brands. Through making people's department stores accessible to all one's followers, we hope that Lotus will also provide increased confidence in the world of influencer marketing, enabling fashion-advocates such as musicians, actors, and athletes to have a more stable source of income from their brand-sponsorships by more-directly driving sales.
Brandon Walker, Marcos Torres
As an artist wouldn't you like to see all of the stats of how your music is going? How many downloads, streams, ticket sales, demographics of listeners, and etc all on one app. In terms of innovation, there is no platform that gives artists an all-in-one experience when assessing the statistics of their music. The market for ArtistHub is enormous due to the fact that artists struggle to understand how well they are doing financially as a result of their art. The problem being solved is the issue artists have with understanding an overall view of their success statistically and financially. This is an upgrade to what pandora has to offer with pandora AMP.
Brandon Johnson, Hannah Osborne